It's a constellation at COPA Stars Gala 2018 | Smart Association - COPA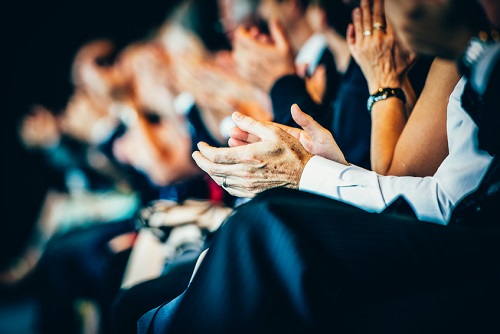 Not even the bad weather can stop the industry stars from shining at the much-anticipated COPA Stars Gala on November 15. Nearly 150 individuals registered to take part in the annual event, which celebrated the OP industry's brightest.
Jim Edmonds and Nineeta Drepaul graced the event as the guests of honour and they were presented with COPA's highest honour, the Excellence in Leadership Award.
In his acceptance speech, Edmonds, the recently retired president of Fellowes Canada, encouraged everyone to stay active and involved with COPA, given that the association creates a space for both dealers and vendors to interact in a way not typical of any other industry or association.
Edmonds thanked his wife Leslie for helping him make the right career decisions over their 36-year marriage. He also expressed his deepest gratitude to his team at Fellowes Canada Inc. who created a great video tribute for their former boss.
The video revealed Edmonds' competitive side (even during fun, team building activities!), as well as his extreme frugality which resulted in his staff being treated to 30 years of Swiss Chalet lunches. Jim found the secret to a work-life balance and lived it out: he gave of his time and resources to charities, encouraged his staff to do the same and ensured that there was time to rest and rejuvenate. Fellowes' owners thanked him for his contribution to their family business and credited him with making Fellowes Canada as successful as it is today.
The head of Operations at Fellowes Canada, Michael Arimah, presented him with his award.
Attending the event with one of her daughters and her CIS team, Drepaul, president of CIS Office Plus, was presented with the award by Don Green, former owner of Christie's Office Plus and CIS Board member.
In her speech, Drepaul said it is important for industry leaders to tap into the knowledge of millennials and to encourage all workers from different generations to mentor and learn from each other.
"Awards like these are much bigger than the people who receive them. COPA has been this industry's association for 84 years and the COPA Team is constantly reinventing itself to meet changing needs. This award itself is newly formatted and what an honour to be in the first round of recipients. Thank you COPA for this award and for your important work in our community," Drepaul said.
After thanking her team at Basics and CIS Office Plus, a tribute video was shown with her daughters thanking her for teaching them not to give up when things do not work out, to be organized, independent and to see the best in every situation. While her sense of fashion was not lost anyone, she most stood out for her ability to embrace new opportunities wherever they are found, to keep a cool head under pressure, for treating those around her with respect and dignity, and teaching her team to be confident in their own abilities. The video depicted Drepaul as someone who embodies the best qualities of an industry leader.
The event also conferred awards to this year's winners in our marketing and products categories. It was a tight vote amongst nominees from most categories; the contenders that also ranked high with the judges' scoring are given honourable mentions:
Marketing Award of Excellence: Avery Products Canada – Avery's Holiday Campaign and Advent Calendar

Honourable mention: 3M Canada Company – Post-it® 2018 Integrated Marketing Campaigns – Teamwork Solutions

Showstopper (Product Development) Award: Kore Design, LLC (SYNNEX) for their Kore™ Wobble Chairs and Active Sitting

Honourable mentions:

Tops Products - Oxford® Stone Paper Notebook
Spicers Canada - ReadyPack™ Storage Box
3M Canada Company - 3M Precision Standing Desk

Made in Canada Award: Spicers Canada ULC for the ReadyPack™ Storage Box (Manufactured in North York, ON)

People's Choice Award for the Best New Office Product of the Year: Kore Design, LLC (SYNNEX) for their Kore™ Wobble Chairs and Active Sitting
Lastly, this year's Longstanding Service Recognitions presented 21 individuals with plaques for providing 30+ years of service to the OP industry in Canada. Our thank you and congratulations to this year's recipients who had a combined 741 years of service to the industry!

For details on each category's criteria, visit this page.
COPA would like to extend its gratitude and appreciation to all those who managed to attend the event and helped made it successful. A special thank you to our sponsors and donors:

C'est une constellation au Gala des étoiles 2018 de la COPA
Même le mauvais temps n'a pas pu empêcher les stars de l'industrie de briller lors du Gala des étoiles COPA tant attendu le 15 novembre. Près de 150 personnes se sont inscrites pour participer à cet événement annuel, qui a célébré les plus brillants de l'industrie des produits de bureau.
Jim Edmonds et Nineeta Drepaul ont honoré l'événement en tant qu'invités d'honneur et la plus haute distinction de la COPA leur a été remise, soit le prix d'Excellence en Leadership.
Dans son discours d'acceptation, Edmonds, président récemment retraité de Fellowes Canada, a encouragé tout le monde à rester actif et participant avec la COPA, étant donné que l'association crée un espace pour les marchands et les fournisseurs pour qu'ils interagissent de façon non typique de toute autre industrie ou association.
Edmonds a remercié sa femme Leslie de l'avoir aidé à prendre les bonnes décisions de carrière au cours de leur 36 ans de mariage. Il a également exprimé sa profonde gratitude à son équipe chez Fellowes Canada Inc., qui a créé une excellente vidéo d'hommage pour leur ancien patron.
La vidéo a révélé le côté compétitif des Edmonds (même au cours des activités amusantes d'esprit d'équipe!), ainsi que son extrême frugalité avec son personnel étant traité à 30 ans de dîners de Chalet Suisse. Jim a trouvé le secret d'un équilibre travail-vie et a profité : il a donné de son temps et de ses ressources aux organismes de bienfaisance, a encouragé son personnel à faire de même et s'est assuré d'avoir du temps pour se reposer et se rajeunir. Les propriétaires de Fellowes l'ont remercié pour sa contribution à leur entreprise familiale et pour avoir fait de Fellowes Canada le succès qu'elle est aujourd'hui.
Le chef d'exploitation chez Fellowes Canada, Michael Arimah, lui a remis son prix.
En assistant à l'événement avec l'une de ses filles et son équipe CIS, Drepaul, présidente de CIS Office Plus, a reçu le prix de la part de Don Green, ancien propriétaire de Christie Office Plus et membre du conseil d'administration de CIS.
Dans son discours, Drepaul a dit qu'il était important que les leaders de l'industrie puisent dans la connaissance des millénaires et encouragent tous les travailleurs de différentes générations à faire du mentorat et à apprendre les uns des autres.
« Des prix comme ceux-ci sont beaucoup plus gros que les gens qui les reçoivent. La COPA est l'association de cette industrie depuis 84 ans, et l'équipe de la COPA se réinvente sans cesse pour répondre aux besoins changeants. Ce prix a été nouvellement formaté et quel honneur d'être parmi les premiers lauréats. Merci à la COPA pour ce prix et pour votre important travail dans notre communauté », a déclaré Drepaul.
Après avoir remercié son équipe Basics et CIS Office Plus, un hommage vidéo a été montré avec ses filles qui la remercient de ne pas avoir abandonné quand les choses ne fonctionnent pas, d'être organisée, indépendante et de voir le meilleur dans chaque situation. Alors que son sens de la mode n'a échappé à personne, elle s'est distinguée le plus par sa capacité à saisir les occasions nouvelles où qu'elles se trouvent, à garder la tête froide sous pression, à traiter son entourage avec respect et dignité et à montrer à son équipe d'avoir confiance en ses propres capacités. La vidéo représentait Drepaul comme quelqu'un qui incarne les meilleures qualités de leader de l'industrie.
L'événement a également conféré des prix aux lauréats de cette année dans nos catégories de produits et de marketing. C'était un vote serré parmi les candidats venant de la plupart des catégories; les prétendants qui ont également obtenu des notes élevées des juges ont reçu des mentions honorables :
Prix d'excellence en marketing Avery Products Canada – Campagne des Fêtes d'Avery et calendrier de l'Avent

Mention honorable : 3M Canada Company – campagnes de marketing intégrés 2018 de Post-it® – solutions de travail d'équipe

Produit sensationnel (développement de produit) : Kore Design, LLC (SYNNEX) pour son fauteuil Kore™ Wobble et l'assise active

Mentions honorables :

Tops Products - Carnet de notes pierre Oxford®
Spicers Canada - Boîte de rangement ReadyPack™
3M Canada Company - Poste de travail vertical Precision 3M

Prix Fabriqué au Canada : Spicers Canada ULC pour la boîte de rangement ReadyPack™ (fabriquée à North York, Ontario)

Prix populaire - meilleur nouveau produit de bureau de l'année : Kore Design, LLC (SYNNEX) pour son fauteuil Kore™ Wobble et l'assise active
Enfin, cette année, la Reconnaissance des services de longue date a été présentée à 21 individus avec des plaques pour 30 ans et plus de service dans l'industrie des produits de bureau au Canada. Nos remerciements et félicitations aux lauréats de cette année qui ensemble représentent 741 années de service dans l'industrie!

Pour plus de renseignements sur les critères de chaque catégorie, consulter cette page.
La COPA tient à exprimer ses remerciements et sa gratitude à tous ceux qui ont réussi à assister à l'événement et ont aidé à en faire un succès. Un merci spécial à nos commanditaires et donateurs :