Cream of the crop: get to know the recipients of the 2018 COPA Scholarship Fund | Smart Association - COPA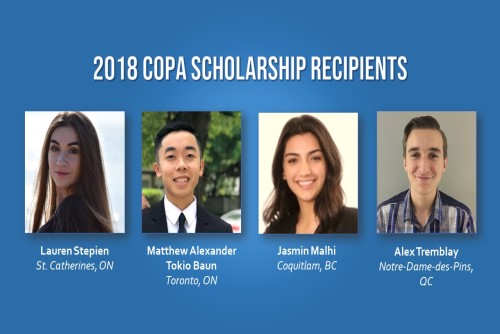 As part of its pledge to promote education, COPA awarded $1,000 scholarships to four outstanding students for the 2018/2019 school year. Here are the winners:
Jasmin Malhi resides in Coquitlam, BC and is attending the University of British Columbia. She will be studying to earn her Bachelors of Science degree. Jasmin works at Staples.
Alex Tremblay resides in Notre-Dame-des-Pins, QC and is attending Cégep Beauce-Appalaches / John Abbott College where he is enrolled in Techniques de l'informatique, Informatique de gestion (DEC-BAC) / Computer Science Technology. Alex works for DEBB Inc. (Novexco).
Matthew Alexander Tokio Baun resides in Toronto, ON and is enrolled in Chemical Engineering at the University of Waterloo. Matthew's father (Ray Baun) works for SYNNEX Canada.
Lauren G Stepien is from St. Catherines, ON and is attending Brock University. She is enrolled in Co-op Neuroscience, Neuropsychology stream. Lauren's mother (Teresa Harvey) works at Beatties.
The COPA Scholarship is conferred annually to students entering first or second year post-secondary studies whose parent/guardian/grandparent works for a COPA member company. The application process opens in February each year. Funds for this grant are raised through cash donations from generous COPA members and through fundraising efforts during the annual COPA Golf Tournament and Stars Gala.
Funds collected through these efforts determine how many students will be awarded and how much each will receive.
There are a number of ways on how one can contribute to the fund, including:
Making corporate or personal cash donations. (Have cheques payable to "COPA Scholarship Fund".)
Using gift cards or eGift cards to make everyday purchases like gas and groceries and contribute to the Fund with the use of Fundscrip
Donating items to the auction event held annually during the COPA Stars Gala Fundraising Event.
Registering for the COPA Golf Tournament
For further inquiries on how to contribute to the fund, click this link or reach out to COPA by sending an e-mail to scholarship@copa.ca or calling 905-624-9462 ext. 223.
---
Crème de la crème: faites connaissance avec les récipiendaires du Fonds de bourses d'études COPA 2018
Dans le cadre de son engagement pour promouvoir l'éducation, l'association a remis des bourses d'étude de 1 000 $ au quatre étudiants exceptionnels pour l'année scolaire 2018/2019. Voici les gagnants :
Jasmin Malhi réside à Coquitlam, C.-B., et va à l'université de la Colombie-Britannique. Elle étudiera pour obtenir son diplôme de baccalauréat en sciences. Jasmin travaille à Staples.
Alex Tremblay réside à notre-Dame-des-Pins, QC, et va au Cégep Beauce-Appalaches / John Abbott College, où il est inscrit dans les Techniques de l'informatique, Informatique de gestion (DEC-BAC) / informatique. Alex travaille pour DEBB Inc. Novexco
Matthew Alexander Tokio Baun réside à Toronto, ON, et est inscrit en génie chimique à l'université de Waterloo. Le père de Matthew (Ray Baun) travaille pour SYNNEX Canada.
Lauren G Stepien est de St. Catherines, ON, et va à l'université Brock. Elle est inscrite en neurosciences en alternance travail-études, spécialité neuropsychologie. La mère de Lauren (Teresa Harvey) travaille à Beatties.
La bourse de la COPA est offerte annuellement aux étudiants qui entrent en première ou deuxième année d'études postsecondaires dont le parent/tuteur/grand-parent travaillent pour une entreprise membre de la COPA. Chaque année, le processus de demande ouvre en février. Les fonds pour cette subvention viennent de dons en espèces des membres de la COPA généreux et les efforts de collectes de fonds pendant le tournoi de Golf annuel de la COPA et le Gala des étoiles.
L'argent recueilli grâce à ces efforts détermine le nombre d'élèves récipiendaires et le montant que chacun recevra.
Il y a un certain nombre de façons de contribuer au fonds, y compris :
Faire des dons en espèces, d'entreprise ou personnels. (Les chèques doivent être faits à l'ordre de « COPA Scholarship Fund »).
Utiliser des cartes-cadeaux ou des cartes-cadeaux en ligne pour faire des achats courants comme l'essence et l'épicerie et contribuer au fonds en utilisant Fundscrip
Donner des articles pour l'événement de vente aux enchères qui se tient chaque année au cours de l'événement de collecte de fonds du Gala des étoiles COPA.
Inscription pour le Tournoi de golf de la COPA
Pour de plus amples renseignements sur la façon de contribuer au fonds, cliquez sur ce lien ou communiquez avec la COPA en envoyant un courriel à scholarship@copa.ca ou en téléphonant au 905-624-9462, poste 223.