Canadians don't mind searching for greener pastures while at work, poll finds | Smart Association - COPA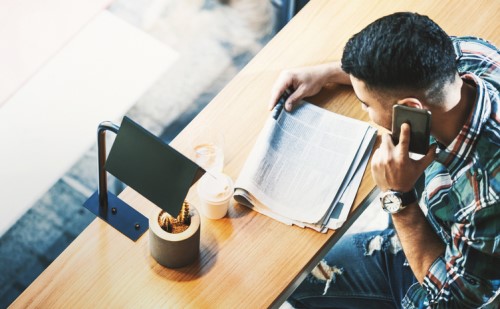 When it comes to seeking greener pastures, Canadian workers have no problem searching for a new job while still working for their present company.
A recent poll by global staffing firm Accountemps found that around 80% of Canadian workers feel comfortable looking for a new job while still with their present company. In fact, 57% said they would likely conduct job hunting or searching activities while at work.
The comfortability of looking for other career opportunities at work declines as workers age. According to the survey, professionals in the 18-to-34 age bracket were found to be the most open to conducting job search activities at work (63%), followed by those in the 35 to 54 (54%), and 55 above (45%).
Accountemps Canadian president David King said it is acceptable to search for a job while employed — however, workers need to ensure that this would not affect or jeopardize their current position.
"Remain respectful of your company and colleagues throughout the process. Look for roles and schedule interviews on your own time and be discrete on social media to avoid potentially damaging your work relationships or professional reputation," he said.
King said it would be best to limit possible job hunt distractions during work hours and try to focus on the tasks for the day.
"Use personal devices and resources to explore new positions and consider engaging a staffing firm to assist with outreach or logistics, so you stay productive while still advancing your search," he said.
---
Les Canadiens n'hésitent pas à chercher de nouveaux horizons au travail, selon un sondage
Cependant, les experts invitent les travailleurs à faire attention car cela pourrait les montrer sous un mauvais jour
Quand ils sont en quête de nouveaux horizons, les travailleurs canadiens n'ont aucun problème à chercher un nouvel emploi tout en travaillant pour leur entreprise actuelle.
Selon un récent sondage de l'agence de dotation en personnel mondiale Accountemps, environ 80 % des travailleurs canadiens n'ont aucune hésitation à chercher un nouvel emploi même en étant toujours employés dans leur entreprise actuelle. En effet, 57 % ont indiqué qu'ils chercheraient probablement un emploi ou des activités au travail.
L'aise ressentie dans la recherche d'autres occasions de carrière au travail diminue à mesure que les travailleurs vieillissent. Selon le sondage, les professionnels dans la tranche d'âge de 18 à 34 ans se sont révélés être les plus ouverts à mener des activités de recherche d'emploi au travail (63 %), suivis de ceux ayant entre 35 et 54 ans (54 %) et ceux de plus de 55 ans (45 %).
David King, président d'Accountemps Canada, a dit qu'il était acceptable de chercher un emploi alors que l'on a déjà un emploi — Toutefois, les travailleurs ont besoin de s'assurer que cela n'affectera pas ou ne compromettra pas leur poste actuel.
« Restez respectueux envers votre entreprise et vos collègues tout au long du processus. Cherchez des rôles et planifiez des entrevues durant votre propre temps et soyez discret sur les médias sociaux pour éviter de gâcher potentiellement vos relations de travail ou votre réputation professionnelle », a-t-il déclaré.
King a dit qu'il serait préférable de limiter les distractions possibles par la recherche d'un emploi pendant les heures de travail et d'essayer de se concentrer sur les tâches de la journée.
« Utilisez les appareils et ressources personnels pour examiner de nouveaux postes et envisagez de faire appel à une société de dotation en personnel pour vous aider avec l'information ou la logistique, afin que vous puissiez rester productif tout en continuant de faire avancer votre recherche », a-t-il dit.