Members sharpen their public speaking skills | Smart Association - COPA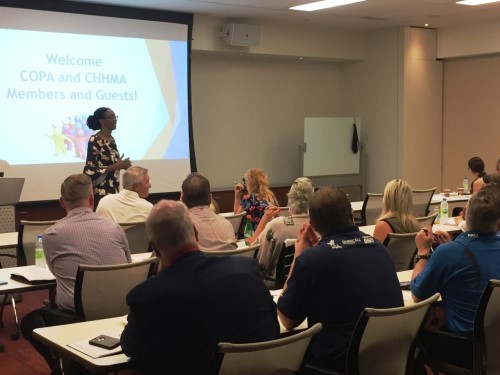 A sold-out class of 40 COPA and CHHMA members participated in a valuable seminar on June 18 at the Centre for Health & Safety Innovation in Mississauga on the topic of public speaking and presentation skills.
The workshop "The 5 Keys of Dynamic Public Speaking" (free as part of COPA membership) was put on by Laura Connor, founder of Connor Speaks, who offers a variety of speaking, consulting and coaching programs for organizations, business professionals and entrepreneurs.
Members learned about the advantages of becoming a superior public speaker/presenter and some of the tools and processes individuals can use to practice and develop their public speaking.
Attendees were taken through Laura's five steps to becoming a dynamic speaker, which included a lot of great reminders, tips and strategies on how to best prepare and implement a powerful presentation whether in front of a large conference audience or smaller customer presentation, as well as in regards to just making a great impression when meeting people at a networking event.
We would like to thank Laura for taking the time to speak to our members and passing on her expertise.
If you would like to learn more about her services and learning opportunities, connect with Laura at (647) 498-4045, www.ConnorSpeaks.com. You can also visit her LinkedIn Profile and Facebook Page.
---
Nos membres aiguisent leurs compétences dans l'art de parler en public
Un certain nombre des membres de la COPA et de la CHHMA ont assisté à un séminaire organisé par Laura Connor, fondatrice de Connor Speaks
Une classe complète de 40 membres de la COPA et de CHHMA a participé à un séminaire utile ce 18 juin au Centre for Health & Safety Innovation à Mississauga à propos de l'art de parler en public et de la présentation orale.
L'atelier « les 5 clés d'une prise de parole dynamique en public » (gratuit pour les membres de la COPA) a été animé par Laura Connor, fondatrice de Connor Speaks, qui offre une variété d'ateliers sur la parole, des consultations et des programmes d'encadrement pour organismes, professionnels et entrepreneurs.
Les membres ont appris les avantages de devenir un meilleur orateur/présentateur public et certains des outils et processus qu'ils peuvent utiliser pour pratiquer et perfectionner leur capacité de parler en public.
Laura leur a aussi montré ses cinq étapes pour devenir un conférencier dynamique, lesquelles incluent beaucoup de bons rappels, des conseils et des stratégies sur la façon de mieux préparer et effectuer une excellente présentation que ce soit devant un grand public, un simple entretien avec quelques clients ou tout simplement pour faire bonne impression en rencontrant des gens lors d'un événement de réseautage.
Nous tenons à remercier Laura pour avoir pris le temps de parler à nos membres et d'avoir transmis son expertise.
Si vous souhaitez en savoir plus sur ses services et sur des possibilités d'apprentissage, communiquez avec Laura au (647) 498-4045, www.ConnorSpeaks.com. Vous pouvez également visiter son profil sur LinkedIn et sa page Facebook.